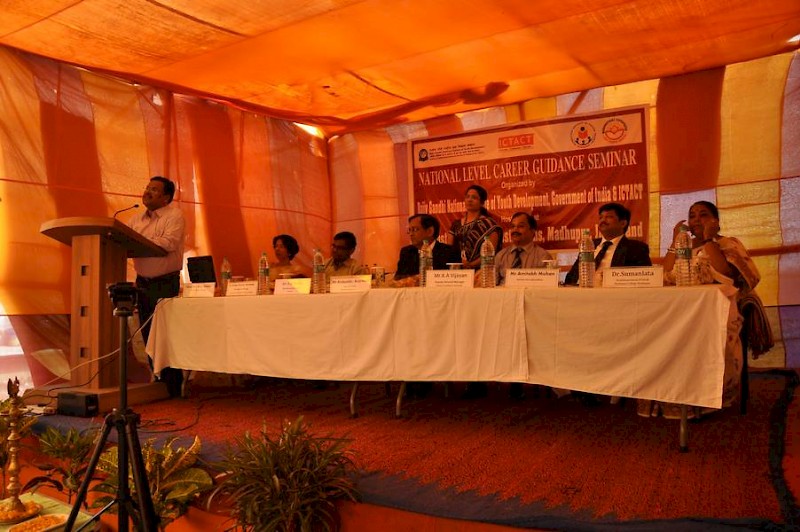 National Level Career Counselling Seminar for Class X, XI & XII Students
Organised by
Rajiv Gandhi Institute National Institute of Youth Development  & ICT Academy of Tamilnadu
Lighting the Celebration lamp by
Mr. Ram Brich Mahato, Sub - Divisional Officer, Madhupur along with Mr. K. A. Vijayan, Deputy General Manager ICT Academy, Tamil Nadu, Mr. Kishan Kumar Kejriwal ,Vice Chairman of Madhusthali Vidyapeeth Trust, Mr. Amitabh Mohan, Director of HLS India,  Kolkata, Prof. (Dr.)Sumanlata ,Head Department of Hindi  Madhupur College, Dr. Ajaya Kumar Mohanty, Principal in-charge MITT, Miss Mily Roy Halder, Principal of Madhusthali Vidyapeeth.
The lighting of the Celebration Lamp was followed by a melodious song sung by the students of MITT
With the participation of nearly 2157 students of class X, XI  and XII  from all Schools ,Colleges and Coaching Centres of Madhupur and nearby towns.
There were 65 teachers, 15 teachers of coaching centres,50 guardians, 95 B. Ed students and 10 media personnel in the program venue.
Welcome Address by Mr. Kishan Kumar Kejriwal
Welcomed all guests and participants. He extended his gratitude to RJNIYD & ICT Academy for organising such a needful event in Madhusthali Campus. He complemented Dr. Mohanty, for taking an  initiative organizing such an event for the first time in Madhupur. Mr. Kejriwal said Career Counselling has never been as important as it is today, because of the rise in the number of courses and competition in almost all fields. He said career should be option according to choice and not on chance.
Words of Inspiration from Mr. K. A. Vijayan
Thanked all the guests , MITT and participants. He shared 'the what and the why' of ICT Academy ,Tamil Nadu. The main objectives of the ICT Academy of Tamil Nadu are:
Connect the educational institutions with the Industries.
Enhance the institute and skill the institutions students.
He said practice is   an important way to achieve a goal. If anyone wants to be a complete and satisfied person then everything in life should be planned. He said to use Google for all obstacles in choosing career. He used motivational word "FLY HIGH".  He said  
"First believe that I can do it"
"Second believe that I will do it"
Students can become leaders with these two mantras. He made the atmosphere extremely electrifying and involved each and every participant to understand their inherent strengths to opt for best suited career prospects.
Words form Mr. R. B. Mahto
Thanked all the Guest, Experts, MITT, RJNIYD, ICT Academy and all the participating students. He starts with motivational lines"
DAN PANKHON SE NAHI HONSLO SE HOTI HAI"
He elaborated many live cases and said one should opt their field according to his own interest not which is following others.
He put emphasis  on the consequences of opting wrong career planning which leads merit holder student to a failure state and just opposite average scoring student with correct career planning leads to billionaires.
Dr. Sumanlata
She thanked all the Guests, Experts and Students. She started her speech with the Quotations. She said development of one student is the development of country.
"Where there is will there is a way".
Personality is the thing which is generally assed by others. Three mantras students should have Eager to know, How to fulfil and
Follow the path to achieve it.
Four misconceptions of students – They students considered education as knowledge. Students considered Schools (Class) for their education fulfilment and students considered degree as  all about achievements. She ended with one advice that  bring chang in yourself not in your aim.
Miss. Mily Roy Halder
She thanked all present over there. She continued her speech with empowering students to overcome obstacles and to be seizing every possible opportunity that lies on their way to be successful. Career to be opted by interest or choice.
She talked to educate students about scientific study techniques of time management, strategies and organisational skill. She assists students in gaining their goals which can be achieved after passing psychometric test. Most of the students have misconceptions which board to choose in secondary level.
Both CBSE and CISE are best and comparison between both is a waste of time. Many tests are there to finding career like Aptitude and Personality test. She emphasised on hard work which help in achieving success. She ends with the quotation:
" Khud ko Buland Kar itna ki Khuda Khud Pouchhe ki app ki raza kya hai"
Mr. Amitabh Mohan
He started with career guidance advice with the song "Jana gaam bhi na ho bas pyar hi pyar ho".
Mr. Amitabh with his thought proving speech and questioning focused on:
How students of class ten could not decide what stream to choose till filling of the form. They think that only one professional can help them choose the right course and thus don't pay much heed to the advice of their parents. By illustrating many live cases and through provoking deliberations he brought positive energy among the gathering. Moreover many young students know what they want to do, but do not know which institutes offers a course in the chosen field. Career Councillor, Mr. Amitabh helped to choose the right course at the right institute. It is not just competition that makes the role of career counsellor more important today.
Even the guardians are not able to guide their wards anymore because of so many options available today. He gave guidelines on different fields like Defence Force Institute, Hospitality, Industry, Law College, Various Universities in India and abroad etc.
Vote of Thanks by Dr. Mohanty
Thanked RJNIYD and ICT Academy, Tamil Nadu for extending support for this event. He thanked Mr.Vijayan for reaching Madhupur after a long journey and even the flood situation of Chennai.
Appreciates the cooperation and support extended by the schools and colleges of Madhupur. The huge gathering and active participation of students of all schools is a matter of surprise which indicates how students are eager to learning about their career planning.
Requested ICT Academy to extend support for school level program on career guidance
He also requested the Academy to join hands with MITT for any kind development work and show how MITT is pro - active to do any kind of social work in this SANTHAL PARGANA region.
Lastly thanked all schools, teachers, media personnel and others for all cooperation and support.